August 10, 2014
WC 2014 is over and the Netherlands new World Champions in Electric Wheelchair Hockey. In an very tactical final the Oranje beats Belgium 1:0, Capitan Kamal Tahtahi scored the game winning goal. The bronze medal goes to Finland, beating Denmark in a thrilling game 5:4 by Golden Goal. Host Germany gained 5th position, ahead of Switzerland, Italy and Australia.
Top Goal Scorer (20 goals) and best handstick player is Björn Sarrazyn (Belgium), best T-Stick player Atso Ahonen (Finland) and fairest player Michael Foxall from Australia.
August 1, 2014
The traditional and popular shopping farm "Münchner Stemmerhof" donates 2400 bottles of mineral water and even takes care of the transport to the Olympic ice sports stadium as well as of the disposal of the empty bottles.
July 23, 2014
Four great sportsmen support the EWH World Championships 2014 as sports ambassadors: Paralympics and World Champion Birgit Kober, pro ice hockey player Uli Maurer of EHC Red Bull Munich, world class skier Felix Neureuther and - last, but not least - Anna Schaffelhuber, 5 times gold medalist of Paralympic Winter Games in Sotchi 2014. "We are glad to have this awesome sports ambassadors team" said Stefan Utz, Projectmanager of WC 2014.
July 7, 2014
The official song of the EWH World Championships 2014 "Champion" was presented yesterday at the Munich Sports Festival. The rapper duo BlackOut!, consisting of Dima Wolf and Matthias Wariboko, developed this song together with the players of the German national side. They also filmed a dynamic video clip during a training camp. The entire project was done on a voluntary basis and implemented by Dima and Matthias. Production was financed by Sieber & Paasch, Munich.
April 16, 2014
The groups are drawn! In Group A will host Germany face Italy, Finland and Belgium. In Group B will play the Netherlands against Switzerland, Australia and Denmark. The opening match will be Germany versus Belgium on August 6, 2014, 21.00 PM.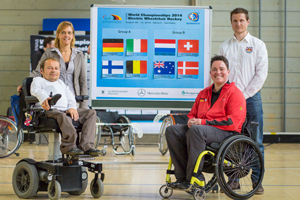 Stefan Utz (Project Manager EWH2014), Anja Wouters (Technical Delagate of ICEWH), Birgit Kober (2x Goldmedalist of Paralympics 2012 and Representativ of EWH2014) and Uli Maurer (Pro Ice Hockey Player of EHC Red Bulls Munich).
April 15, 2014
As a little foretaste for the group drawing tomorrow in Munich we can present the second trailer of the IWAS World Championships 2014.
December 3, 2013
At todays press conference the official trailer of the WC 2014 was shown to the invited journalists. You may also download the trailer, poster or other press releases at the download area on our website.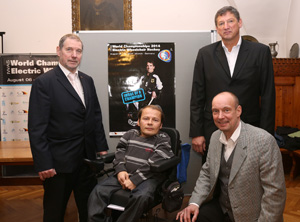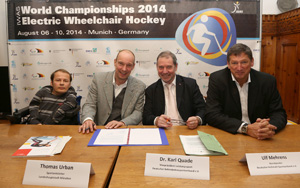 October 17, 2013

The opening ceremony on August 6, 2014 in Munich, will be a big highlight - thanks to Peter Birlmeier, founder and head of the Munich Sporttheatre Ensemble, who will direct this event. He has been staging top-class sports-shows for more than 20 years. For the opening ceremony of the WC 2014 Peter Birlmeier is working with various artists of his sports theatre, people from TSV Forstenried and further performers and athletes. Spectators may look forward to a imaginative, surprising and entertaining stage programme.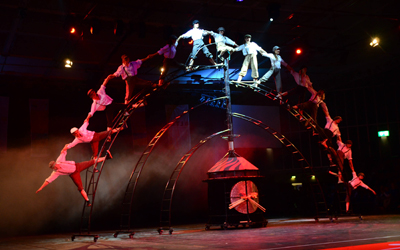 Show of the Munich Sportstheatre Ensemble (Photo by: Peter Birlmeier / MSE)
June 6, 2013
In oder to create ideal conditions at the World Championships next year a new floor will be laid at the ice stadium. It should be selected with care, so German national players Stefan Utz and Andreas Vogt tested the floor extensively.
Bodentest.pdf
Download
May 8, 2013
New press release of the German Wheelchairsports Association.
http://www.drs.org/cms/nc/news-medien/news-aktuelles/430/article/4299.html
April 29, 2013
New press release concerning the WC 2014 on the website of the IWAS.
http://www.iwasf.com/iwasf/index.cfm/iwas-news/electric-wheelchiar-hockey-world-championships-2014-to-be-in-munich1/
April 26, 2013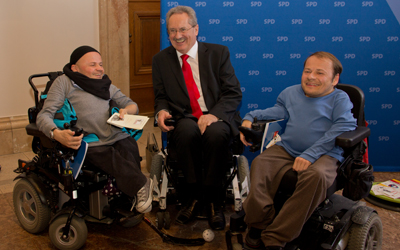 Munich´s current mayor Christian Ude (Social Democratic Party) in an electirc sportswheelchair with Roland and Stefan Utz from the organizing committee.
April 24, 2013
Yesterday the first official meeting of the organizing committee took place in Munich. The committee is composed of representatives from the city of Munich, National Paralympic Committee Germany, German Wheelchairsports Association, Department of Electric Wheelchair Sports and the local sports club TSV Forstenried. In addition to the discussion of general questions and clarification of competences, a working group was established. This group now meets on a regular basis and takes responsibility for the concrete organization. Stefan Utz has been officialy appointed Project Manager and head of the organizing committee.
April 19, 2013
Now it is official, the IWAS choose the National Paralympic Committee Germany and the city of Munich to become host of the World Championships 2014. Stefan Utz, head of the organizing committee, received the good news out of Aylesbury (England), home of the IWAS. "Today is a great day for the German Electric Wheelchair Hockey. We are very pleased to organize the WC, until now a lot of work is waiting for us. Let´s get it on", said a delighted Stefan Utz.
EWH Award of Bid 2014.pdf
Download
March 21, 2013
A delegation of ICEWH inspected the icesports arena at Munichs Olympic park and the Hotel Leonardo. Germany´s Organising Committee did a great job in advance and was proud to present their work. The four-star Hotel and sport ground including training facilities are seperated by a distance of only 2 kilometres. Germany could impress the delegation with it´s application in Munich. At April 12, 2013, IWAS will make their desicion, if Munich become host of the third World Championships in Electric Wheelchair Hockey.